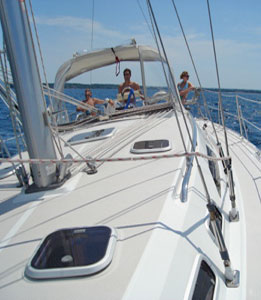 Sure, there is snow on the ground and it is the middle of December here in northern Michigan, but it's never too early to think about sailing the blue waters of Lake Michigan next summer (see photo to the left).
Sure, we enjoy throwing on the snowshoes, hitting the slopes, and hiking with the dogs during the winter months, but that's Snoloha life for you – always thinking about the next "season" while enjoying the current one.
Our friends at Bay Breeze Yacht Charters have posted their 2007 Sailing School Schedule. Weather (yes, it's spelled wrong in this context on purpose) you are a complete novice still not sure the difference between Port & Starboard, or an experienced old salt looking to improve or perhaps needs a bit of a refresher, you can choose from Basic Sailing to Advanced Coastal Cruising, there is definitely something for everyone..
.