It's been busy behind the the scenes with plans and changes for 2010, including lots of computer work (not my favorite way to spend time, but a necessary evil), all new branding, web site meetings, new product samples & designs and trade show planning.
So it's always nice to take advantage of the escapism mentality and lifestyle that I promote. Not only is it healthy, but it's also a great reminder of why I launched this brand in the first place.
Saturday was a great Snoloha day. The Grand Traverse Yacht Club has a kids party each year where Santa Claus is delivered to the Club… by sailboat of course. Since the Snoloha Sailing Yacht (it's not really a yacht, I just like saying that) is still in the water…we decided to sail as well alongside the Santa delivery. It was fun. A little cold, but a lot of fun. There's something about being on the water that is therapeutic, whether it's July and 80 or December and 30.
The day didn't end there. That evening Boyne Country Sports was hosting Warren Miller's ski movie, "Dynasty". I also had Snoloha swag to deliver that was for the give-aways during the intermission. Suddenly, I went from a sailing state of mind to having that childhood excitement of the first run of the year down the slopes.
Selfishly, I really want to sail and snowboard in the same day. That, I think, would be pretty sweet. The boat is still in the water, so I guess it could happen! Maybe I need to rethink my goals in life?
Sunday finished the weekend out with a nice dog hike along the waters of East Bay just south of the resort town of Elk Rapids (where we stumbled across a driftwood built warming shack…pictured below).
Now it's Monday and I'm sitting in front of this computer thinking back to the weekend and what a good time it was. That's exactly the point of Snoloha…you never stop enjoying the lifestyle. It's still there when you need it by simply closing your eyes and drifting away, taking a look at a favorite framed photo, or rehashing stories with the people you shared it with.
So escape…physically or mentally.
A bit of snow to clear of the deck.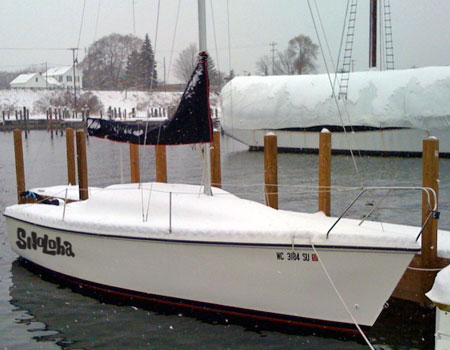 Marc from Manitou Boatworks and Durk from Bay Breeze Yacht Charters.

The "Spyke" crew delivering Santa.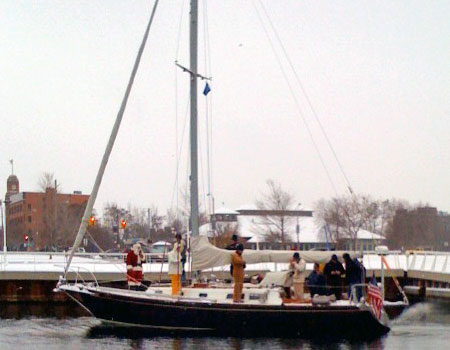 Hiking in Elk Rapids.