From my buddy Jimmy Pirate over at TropCast Radio.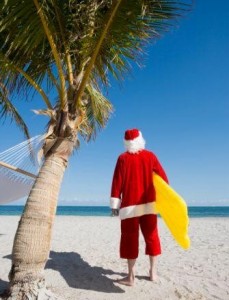 Episode #48: Our Third Annual Holiday Extravaganza
"A few days early to maximize your holiday pleasure. It's that time again for our annual holiday show, about an hour of Trop Rock Christmas Classics and some new stuff too. The best part about it, my gift to you, is the fact that the show straight music, breaks or interruptions from me….
Enjoy,
JimmyPirate"
Title / Artist / Album
12 Day of Snowbird Christmas / Brent Burns / Christmas Vacation
Island of Misfit Toys / Cabana Man / Beach Bum Santa
Christmas Wedding Song / Coconut Dave / Garden By The Bay
Hang Ten Santa / Eric Stone
Christmas In The Islands / Gene Mitchell/ Christmas In The Islands
It's Gonna Be A Merry Christmas / Brent Burns / Christmas Vacation
Ho, Ho, Ho and a Bottle of Rum / Jimmy Buffett / Christmas Island
Let it Snow, Somewhere Else / Laidback Larry / Meet Me On The Boardwalk
Have Yourself A Tropical Christmas / Latitude / Latitude Christmas
Have a Merry Island Christmas / Pirate Dreams
Christmastime On The Beach / Roy Holliday
Mele Kalikimaka / Jimmy Buffett / Christmas Vacation
All I Want For Christmas Is A Big Palm Tree / Gene Mitchell / Christmas In The Islands
Christmas in Key West / Scott Kirby / 4 Good Dogs
A Christmas Wish / Tall Paul