I wasn't sure where to start with this one. So I revisited the last blog post I did in 2007 for some inspiration. I started that post off by listening to Ziggy Marley's "Tomorrow People" and staring out the window at the snow covered ground. 2007 was an extraordinary year and was fun reflecting on.
This first morning of 2009 I find myself listening to Kenny Chesney's "The Life", and staring out the window at the snow covered ground. However, reflecting on 2008 seems a bit different. What a year for all of us. The election, Wall Street, Main Street, The Big 3, The Crazy Weather, The dismal Michigan football season and The 0-16 Lions (and this is just a partial list!).
"If you don't know your past, you don't know your future" – Tomorrow People
Through all the bad news that happened, Snoloha managed to experience some good things in 2008, including signing a licensing agreement to grow the brand throughout Europe, winning as Most Slacker-Friendly business for a second straight year, introducing new designs and new products, more media coverage, and most importantly a growing number of new customers, repeat customers and new fans.
So now what? What's the plan for 2009? In one word, "online." In one phrase, "online in 09." Michael Michalowicz, author of "The Toilet Paper Entrepreneur", even posted my resolution on his blog (Snoloha is number 34).
So what does this mean? This means my efforts are focused on the website, on Facebook, Twitter and the Snoloha Community. Yes, I'm going to sacrifice some brick-and-mortar growth. And what I mean by that is I'm not going to actively pursue accounts and reps. If a retailer is interested after hearing about the brand, that's a more ideal scenario. In fact I received an email just yesterday from a retailer inquiring about carrying Snoloha. Perfect!
You're probably wondering "why?" Why would I make this decision? Seems crazy. The short answer is to maintain the integrity and story of the brand. Snoloha is a connection. Snoloha is a story. Snoloha is a lifestyle. It is a made up word and concept that you must take a moment to grasp. It is not suppose to be anything similar to what is already available. So….it is very hard to get that across in a crowded retail setting when Snoloha is jammed in a corner in order to make room for the "big boys" (Patagonia, North Face, Burton, Roxy, etc). So why not open a Snoloha branded store? Good question. I've considered it. But after 12 years on a retail floor, I know what I'd be getting into…which are all the reasons I got out in the first place. And by going "online in 09" I can take care of a good portion of business on an iPhone while sailing across Grand Traverse Bay this summer…can't do that with a retail store!
So there you have it, "online in 09."
In addition to "online in 09", my goal is to release new designs and products, assist Oliver in Spain in growing Snoloha throughout Europe, seek out additional licensing opportunities, seek out partnership opportunities, move forward with potential retail expansion in the Seattle area (that would be you, Seattle Dave) and the Washington DC area…and collect more photos from all of you!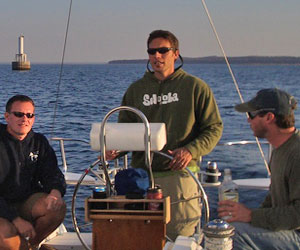 "And to think that I thought for a while there that I had it made
When the truth is I'm really just dying
To live like Jose
And just fish
Play my guitar
Laugh at the bar with my friends
Go home to my wife
Pray every night
I can do it all over again
Wouldn't that be the life?"
"The Life," Kenny Chesney