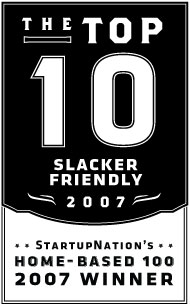 For the past four months, the StartupNation team has been engrossed in its boldest initiative yet – creating and publishing the first annual ranking of home-based businesses in America.
Finally, after all of this effort, the 2007 StartupNation Home-Based 100 ranking results are now published.
Check out all the, winners.
The winners were chosen from among thousands who visited and registered at StartupNation's groundbreaking Sun City with the hopes of getting their piece of the limelight. The 100 winners are made up of ten Top Ten categories.
Snoloha was chosen as the winner in the "Most-Slacker Friendly" category, which recognizes a company that has built an enviable lifestyle.
Thanks for the support!