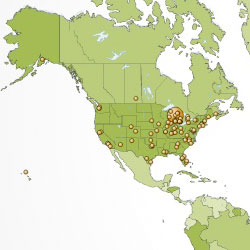 Thought I'd share some of the Google Analytics for Snoloha.com. This is a Geo Map overlay which represents the volume of visitors coming from locations around the world. Of course the majority is from the United States – from Hawaii and Alaska to Florida and New England.
The rest of the map (not pictured of course) shows visits from China and Australia to the Middle East and Europe.
The Snoloha Lifestyle is global. Who knows, maybe one day the Snoloha brand will be as well. But for now, we are still learning to walk before we attempt to run.
.
.