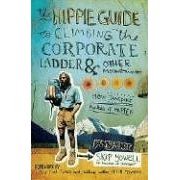 So I visited the local Borders and picked up a copy of  "The Hippie Guide to Climbing the Corporate Ladder & Other Mountains".
I have had the book for about a week and am already about finished reading it.  I would highly recommend this for anyone out there starting a business, thinking about starting a business, or that are already doing business.
Skip Yowell, one of JanSport's founders, does an excellent job re-telling triumphs, failures, and the ups and downs of business.
I particularly enjoy the tone with which he writes – laid back and comforting, which seems to reflect his personality and the personality of JanSport as it found its way as a business and a brand.
I thought this was worth sharing (from page 70)-
"Naturally, when you had as much fun as we did, it was difficult to get too disheartened over the petty stuff that far too many corporate cultures seem to obsess over.  I believe this is also known as corporate politics.  Personally, I never could understand the mind games, the kissing-up and schmoozing, and the being in the loop – or out of the loop as needed – that is frequently part of the office scene.  In my view, I should treat each person I meet with genuine respect, a receptive ear, and kindness, which is why one of our corporate mottos for the last decade has been: Take your business seriously, not yourself."