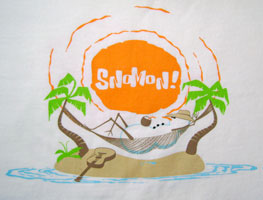 SnoMon is alive! Well, in the screen print sense anyway.
I wanted to give everyone a "sneak peek" and keep you in the loop regarding Snoloha's progress.
However, he will not be available on the site yet, but he will be available at Boyne Country Sports in Novi and in Traverse City probably sometime in February.
Remember, if you have an idea for a Snoloha design, then email us.  If we are interested in using it, we'll hammer out the details with you, then you'll get the credit and the gear.