I don't mean to drone on about sailing and Snoloha…it just happens to be that time of year and I've spent more time on a boat than the beach so far this summer. But again, it's the 'escapism' element – the "Living on Snoloha Time" feeling – whether that comes from a boat, beach, ski hill or backyard bbq, that I do mean to drone on about.
I recently had one of those Living on Snoloha Time experiences while sailing with Capt Dave from Bay Breeze and Jimmy D. We sailed "Osprey", an O'Day 39, across West Grand Traverse Bay and a bit north to Bower's Harbor, where we dropped anchor and dinghied ashore for dinner and drinks at the Jolly Pumpkin.
Sometimes I'm not sure what's most enjoyable about these trips…the actual sailing, the conversation (which spans from reciting Adam Sandler skits to politics and from sailing trips to religious views), the moments of pure silence or waking up in the morning with a hot cup of coffee, while staring at Power Island in the distance, an occasional fish jumping and the crystal clear calm waters.
On this particular trip…by far the most memorable moment is one that's nearly impossible to describe, one of those "you had to be there" moments. It involved an absolutely clear star-filled night sky, water so calm it did look like glass and the reflection of those stars so real in the water that, and this is the part where it got trippy, it literally felt like the boat was suspended between two night skies. It was such a crazy feeling and sight. With your toes on the edge of the boat, looking straight down, all you saw was stars…and they'd slightly move as the water barely rippled. While looking down, it was as if you were looking up. Yes, we to wondered if the server at the restaurant slipped something into our drinks…but this was real, and it was sweet.
Those are the moments that count…no iPhones, no Facebook, no camera, no Twitter, just one for the internal photo slideshow of life that you can keep to yourself.
So enough of my droning on. It's 4th of July weekend. We will be spending time on the beach and the boat this weekend…Living on Snoloha Time as a family, and I can't wait.
As you know, I'm horrible at live status updates (I'll try, but I can't make any promises). However, to those that are good at it…don't hesitate to share your Snoloha moments on Facebook, or my email (rod [at] snoloha [dot] com).
To a safe and happy holiday weekend…
Picture perfect morning looking at Power Island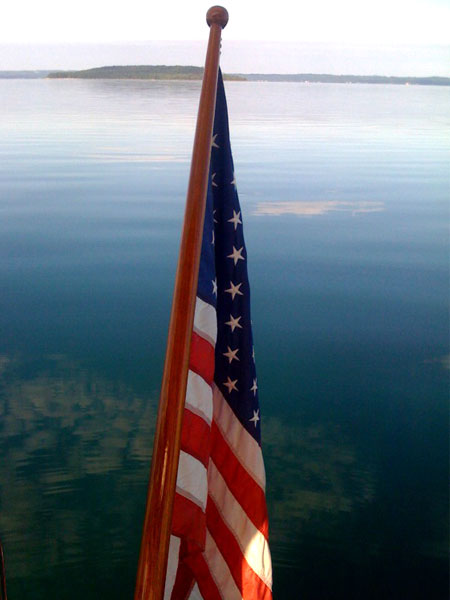 Jimmy D sporting his old school Snoloha hoodie and an Unsalted Sailing hat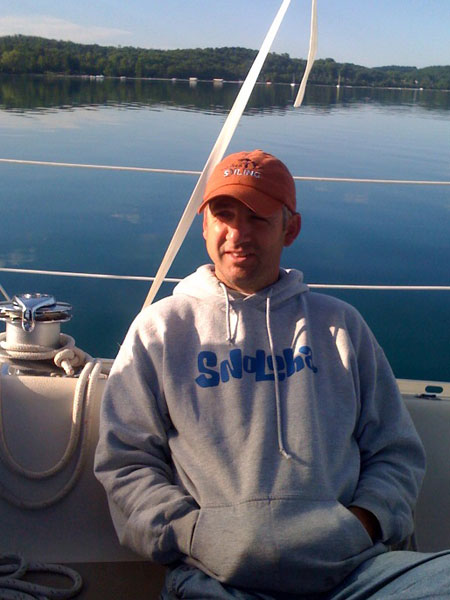 Pulling anchor…that water is crystal clear