The balancing act of owning a lifestyle brand and enjoying the lifestyle is tough. In order to build and grow Snoloha, there is a lot of hard work and behind the scenes stress involved (as with any small business venture). However, it's important to actually live and enjoy the lifestyle as well. Wouldn't it be hypocritical not to?
My good old cable internet has been on the fritz since Thursday (a tech is finally coming to look into it today), so I was forced to unplug for a couple of days. Sure, the iPhone allows me to stay connected, but I used this as a reason to stay unplugged and enjoy the lifestyle that Snoloha stands for since Friday.
It was fun. I'm glad my internet went down.
Traverse City, for those that have never visited, is an amazing northern Michigan town, especially in the summer months. The water is as green and blue as the Caribbean and the outdoor activity options are endless. We packed in boating, beaching, tiki bars, dinghy cruising, live music downtown (The Boon Doggies…a friend's band), hangin' with the dogs, and pedaling all over town on our beach cruisers. It was sort of like being on vacation…but in our backyard.
Now, back to bidness. I'm working with the licensee in Spain on some exciting growth opportunities, will be receiving new gear any day to put on the website, and working on a couple of other new products (not clothing), among many other items on the "to do" list.
Here's Bailey playing in the waters of West Grand Traverse Bay: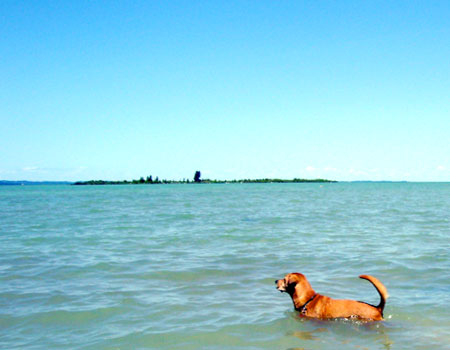 And some friends on the beach: