It's that time of year…sailing!
Here's the deal, if you live in the area or perhaps are considering visiting the area, and are looking for something fun to do this summer, why not go sailing?
My good buddy Captain Dave at Bay Breeze Yacht Charters and Sailing School runs a top notch bidness and caters to the pure beginner or the experienced old salt. You can learn to sail for the first time, get a refresher, or book a boat of your own for a week.
AND, you could get your very own Snoloha / Bay Breeze beer coozie (seriously, we have them).
They've got new boats in the fleet, new marina facilities and Dave has the most lovely and friendly wife who works with him (I'm convinced she's the reason people like doing business with them. Don't get me wrong, Dave is a nice enough guy and knows more about sailing than I know about Seinfeld and Jimmy Buffett, but Kristen is the real reason folks like them…and that's probably true in their personal live as well, I think I like Kristen more than I do Dave).
Hop on over to www.bbyc.com to learn more. Be sure to tell 'em Snoloha Rod sent you…it's sure to get you, ummm…something, at least a smile or a chuckle.
And for those of you who've not been to Traverse City…you gotta visit.
Here we have the Bay Breeze World HQ, located in that brown building (not a bad view during the day). If you want, I live 2 blocks from there and would be happy to welcome you aboard. Heck, I'll even go sailing with you.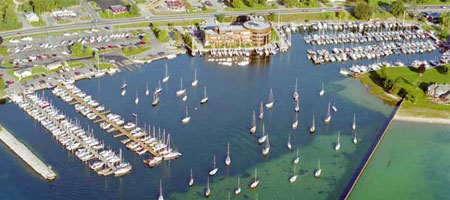 See that beach below? That's northern Michigan. The waters are as blue and green as you'd see in the Caribbean. We don't have the palm trees and salt water, but we do have sandy beaches and no worries of sharks (sharks are scary). It's a pretty sweet place to vacation in the summer months. Click on the photo to learn more about the Traverse City area.