Here in the northern latitudes, as much as we enjoy the snow and all the winter related activities, at some point we feel a little island fever coming on. For some that means a trip to the lower lats and some fun in the sun. For others, well it's making the most of a cold Saturday evening in January.
A big thanks to Scott's Harbor Grill for hosting The Grand Traverse Yacht Club's "Snoloha Winter Luau". It was freezing outside, but inside we enjoyed a steel drum band, some excellent island-inspired food, rum punch, past boat stories and plans to write new ones.
We managed to give away some Snoloha swag and meet some really fun folks that know how to have a really good time. The party was scheduled to kickoff at 6:00 and they were lined up out the door minutes before. We must have packed a couple hundred island crazed northerners into this marina side restaurant.
There's a Snoloha Definition T on the dance floor…


That's me and Capt Dave working the give-aways at the tiki bar (Dave was in charge of getting people leid).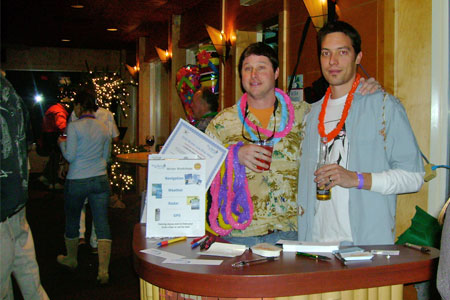 At some point a giant Big Bird looking chicken showed up. It was wearing a name tag that said, "Hello, my name is Chicken". And yes, if you look closely that is a chicken wing in the chicken's beak. That chicken had a twisted sense of humor.