You've probably noticed that blog posts have been light lately. Well, I had a wedding to attend last weekend so I fell a little behind. Oh, I should mention that it was my wedding!
We did the entire day "Snoloha style".
The wedding was held aboard a 47′ catamaran, "The Nauti Cat" (If you visit Traverse City this summer be sure to consider this as a "must do", Capt Chien and his crew will take great care of you). A friend of mine performed the ceremony, and even started off by saying that it was brought to you by Snoloha (he was kidding of course).
Afterward, we had a good old fashioned backyard BBQ, with Trop Rock & Reggae music playing in the background, and Cuban burgers the highlight of the menu. A quick storm blew in and out, and as a result the temp dropped a bit, and guests started asking if they could by Snoloha hoodies…no problemo!
Now it's back to work, but first here are a couple of pics.
Yes, if you look close enough, that would be a Santa Claus aboard. And when you saw him up close and realized his suit was filthy…his remark was "it's the economy".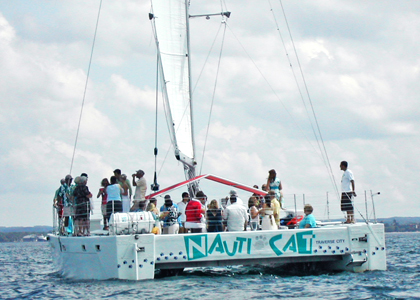 Yep, I married someone much, much better looking than me.