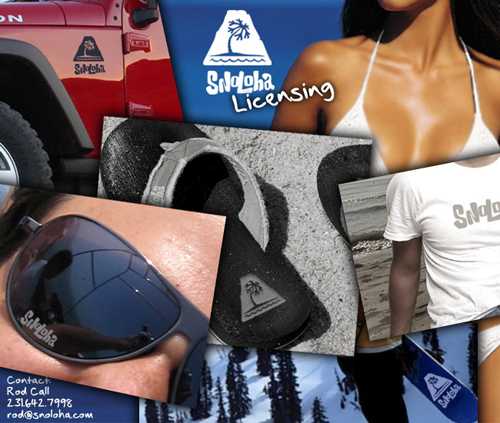 If you've landed on this page, you are either curious as to what 'licensing' is, or you are in the licensing industry and may be interested in Snoloha licensing opportunities.
And if you are familiar with what Jimmy Buffett has done with the Margaritaville brand, well, then that gives you an idea of the licensing opportunities and vision of Snoloha.  Yes, it would help if Mr. Buffett would write and record a 'Snoloha' Song.
A partial list of licensing opportunities:
Snoloha Clothing
Snoloha Footwear (Snoloha flippy-floppies are a must)
Snoloha Spirits (A Snoloha rum just makes too much sense)
Snoloha Beer
Snoloha Sunglasses (The sun does shine somewhere between the islands and the arctic)
Snoloha Coffee
Snoloha Swimwear
Snoloha Boards (Ski, Snow, Surf)
Snoloha Luggage (After all, travel plays a big role in the Snoloha escapism mentality)
Snoloha Bar & Grill
The "Snoloha Edition" Jeep Wrangler (Move over 'Sahara Edition')
Download The Snoloha Brand Book here (5.0 MB).
Yes, there are all kinds of ways to extend the Snoloha brand.  So if you are a licensing agent, company, friend of Jimmy Buffett (or Jimmy Buffett)…and are interested in Snoloha Licensing opportunities, contact me:
Rod Call
231.642.7998
rod@snoloha.com